QA-Calibrate
QA-Calibrate is an easy to use calibration management software for managing and analyzing results of gage calibrations and R&R studies: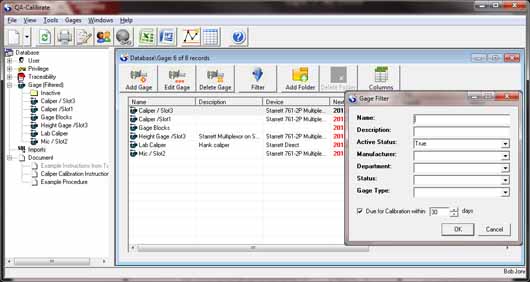 Easily manage your calibration and R&R study data with user-defined cascading folders for grouping by customer, department, product family, etc.
Enter data directly into spreadsheets using keyboard or electronic gaging.
User-defined calibration fields to record calibration conditions for compliance with ISO and AIAG requirements.
Rapid search on a variety of customizable fields (e.g. Gage Type, Manufacturer, Gage Status, Department, etc.), including default search for calibrations due in user-defined time period.
Gage Calibration Software Features 
Easy to Use Calibration Tracking Software:
Control charts analyze stability over time to differentiate between inherent system error & special causes: Repeatability chart; Reproducibility chart; Accuracy chart
Data entry via keyboard, cut/paste, or through electronic gages via RS-232 or USB ports.
Flexible format allows the selection of a basis for comparison.
Design follows Automotive Industry Action Group (AIAG) recommendations.
Superior Reporting:
QA-Calibrate calibration tracking software includes customized report templates for rapidly exporting Calibration History, R & R Study, Equipment Tags and Certificates of Compliance to MS Word.
Reports automatically generated with click of a mouse.
Export to Excel for quickly distributing analyses, statistics, and raw data.
Quickly save charts as jpeg for web posts.
Pricing & Options
Pricing starts at $795 for network or stand-alone installation. Discounts are available for multiple user licenses. All licenses are perpetual-use (so they never expire) and concurrent-use (so you only use a license when you're in the software).
Your purchase of Calibration Management software licenses include all the following benefits for the first twelve months from date of purchase, and afterwards with renewal of our optional maintenance plan:
Free

support

, including access to our resident Quality Management expert

Paul Keller

.
Free upgrades! See What's New!
Free web conference training sessions for you and your colleagues covering all aspects of software setup, functionality and management to ensure your organization gets the most from its calibration management software implementation. 
10% discount on all of our online training courses.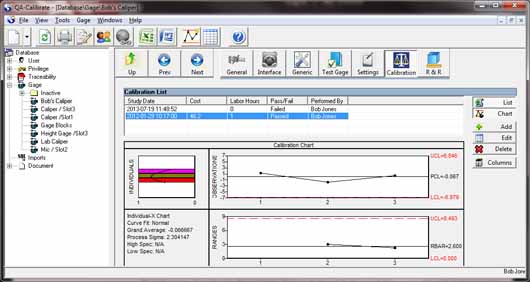 Optional Calibration Management software features include:
Optional SQL Server back-end. See System Requirements.
21 CFR Part 11 Features for regulated industries provides:

Audit Trails of all calibration and R&R study data editing;
Auto-logoff after specified period of inactivity;
Password expiration;
Login denial after specified number of failed login attempts (with notification to designated administrator);

Our Gage Calibration software integrates with our SPC software so gage management is integrated with the process data it will collect.
Need more information on control chart software? Download a free Calibration Management software trial, or contact our Sales staff for more details or to schedule a personalized web presentation.