Box Whisker Charts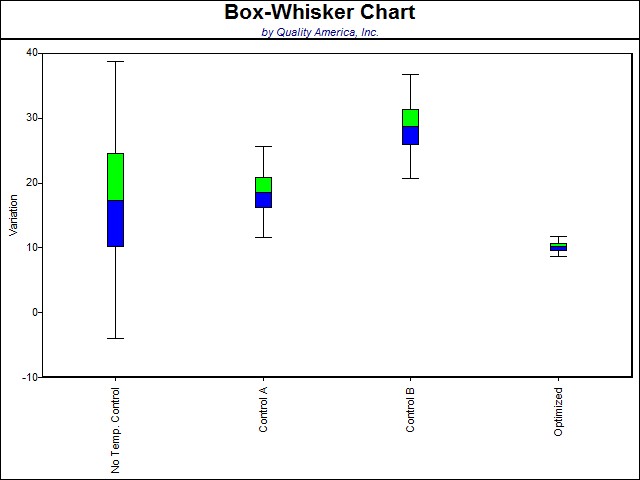 A Box Whisker Chart is a graphical tool that may be used with variables data (data that is both quantitative and continuous in measurement, such as a measured dimension or time). Box Whisker plots may be used to:
Monitor the process location and variation over time.
Compare the location and variation of various processes or categories of products or services.
Box Whisker plots show the relationship between two parameters, usually a response and a factor, in terms of a measure of centrality and one of dispersion. Dispersion may be made expressed using the median with quartile limits (useful for non-normal distributions) or the mean with limits expressed in standard deviations (useful for normal distributions)
In any application, Box Whisker Charts are NOT control charts, as they do not have statistical control limits. For that reason, they may not be used to establish statistical control of a process or to measure process capability.
See also:
When to Use a Box Whisker Chart
Interpreting a Box Whisker Chart
Box Whisker Chart Calculations
Learn more about the Quality Improvement principles and tools for process excellence in Six Sigma Demystified (2011, McGraw-Hill) by Paul Keller, or his online Green Belt certification course ($499).