Autocorrelation Function
The Autocorrelation at the given lag. The ACF will vary between -1 and +1, with values near ±1 indicating stronger correlation.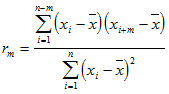 for m=2,3,4,…,n/4
where n is the number of observations, and x-bar is the average
of the observations
Learn more about the Quality Improvement principles and tools for process excellence in Six Sigma Demystified (2011, McGraw-Hill) by Paul Keller, or his online Green Belt certification course ($499).