Tools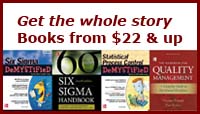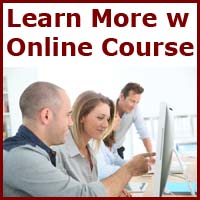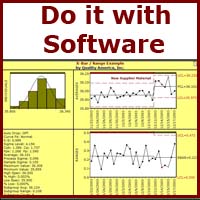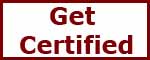 Concepts
Interpretation & Calculations
Histograms, Process Capability
Applications
Key Success Factors for the Implementation of SPC
How to Study Process Capability
SPC to Improve Quality, Reduce Cost
Use Of SPC To Detect Process Manipulation
Using Data Mining and Knowledge Discovery With SPC
Exponentially Weighted Moving Average (EWMA) Charts
An (EWMA) Exponentially Weighted Moving-Average Chart is a control charts for variables data (data that is both quantitative and continuous in measurement, such as a measured dimension or time). It plots weighted moving average values. A weighting factor is chosen by the user to determine how older data points affect the mean value compared to more recent ones. Because EWMA control charts use information from all samples, they detect much smaller process shifts than a normal control chart would. When not available, a Moving Average chart such as offered in our SPC software provides the same benefits.
Although standard EWMA charts are designed to monitor processes with a stable mean, a modified EWMA control chart may be used for autocorrelated processes with a slowly drifting mean.
See also:
Choosing a Control Chart for Individuals Data
Learn more about the SPC principles and tools for process improvement in Statistical Process Control Demystified (2011, McGraw-Hill) by Paul Keller, in his online SPC Concepts short course (only $39), or his online SPC certification course ($350) or online Green Belt certification course ($499).